No 80 Squadron RAF
June - August 1918
Operations with the French
Following a request from General Foch on 29 May to the British C-in-C for air reinforcements on the French front, anticipating a German offensive, IX Brigade deployed most of its squadrons and the two Wing HQ's to the Beauvais area arriving on 3 June.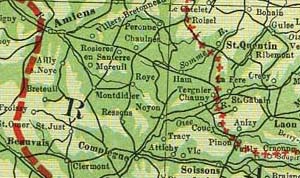 Map (1) of the operational area on the French Front
IX Brigade came under the command of Commandant L Picard, air commander of the French group of reserve armies. The German offensive was launched on 9 June (the Battle of Matz) and there was intensive fighting over three days. IX Brigade was employed on low flying attacks on troops. 80 Squadron were based at Fouquerolles next to the French 6th Army telephone control. Capt. Preeston recalled undertaking a series of attacks on artillery positions particularly their ammunition dumps.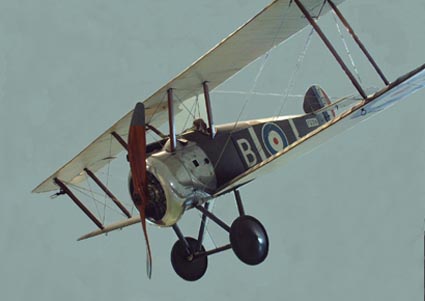 photo © www.airwar1.org.uk
11 June was a day of intense activity for 80 Sqn employed in low level ground attacks on troops and transport leading the single seat fighter bombing (along with 43 Sqn); 88 20lb bombs were dropped and 2650 rounds fired. Capt. Whistler claimed two aircraft shot down on 12 June a Fokker Dr1 and a Pfalz DIII. Lt. Chadwick claimed an aircraft driven down on 13 June. In a fight with Jasta 13 on 14 June over Dreslincourt, Lt. Melbourne was killed and Lt. Beare was wounded, Capt. Preeston claimed a Pfalz DIII destroyed. 80 Sqn suffered few casualties compared to their sister Camel squadron No 73, which had seven aircraft brought down in the three days. On 16 June Lt. Glasspoole was brought down and taken prisoner in the Noyon area after an engagement with Fokker DVII's of Jasta 13.
IX Brigade returned to the British front on 21 June and were rejoined there by 25 and 62 Sqns. On 8 July Capt. Preeston was credited with an EA sent down out of control. The following day, 9 July, Lt. Hayes was credited with an EA driven down over Merville; the Brigade diary adds that 80 Sqn pilots reported that when attacking two 2-seaters over Merville at 6,000 ft, the observers of both hostile machines threw out small smoke bombs which detonated about 50 yards behind their machines giving a small bluish burst. On 10 July Capt. Whistler and Lt. Bennett were each credited with an EA OOC.
The major part of IX Brigade (including 80 Sqn) was returned to the French front on 14 July in the Champagne region anticipating a further German offensive which came that night. IX Brigade was again employed on low flying attacks on troops and other ground targets. On 18 July the Squadron put up a 17 aircraft offensive patrol to escort bombers and were engaged by 16 Fokkers in a general dog fight. Lt. Hayes was wounded and forced down (initially reported missing he was found in a Paris hospital on 27 July) and Capt. Whistler was also forced down, both inside French lines. After a French counter-attack on 18 July the German offensive came to an end. On 19 July an 80 Sqn flight dropped 12 25lb bombs on roads SE of Bonnes where one direct hit was observed on an ammunition dump causing a large explosion and fire.
The French mentioned Capt. Preeston and Lt. Bennett in despatches; Preeston for his part in co-operating in the destruction of an enemy artillery position and an ammunition convoy; Bennett for leading his patrol successfully defending a bombing mission against a large enemy formation.
On 30 July in a substantial engagement with 10 Fokker DVIIs over Fimes, Capt. Whistler claimed two Fokker DVIIs - one destroyed another driven down, and Lt.s Baker and Orr each claimed one driven down.
The Battle of Amiens on the British front
80 Sqn returned to the British front on 4 August in preparation for the next Allied offensive and were reassigned to V Brigade RAF, 22 Wing. The Battle of Amiens opened on 8 August. 80 Sqn, based at Vignacourt, was assigned to ground attack duties in the Northern sector of the 20 mile battle front which stretched from Morlancourt to La Neuville. The Australian and Canadian Corps advanced rapidly against the Germans and a rout developed. In a day of intense fighting 80 Sqn lost three pilots. Lt.s Hudson and Wignall were missing in action, the former later confirmed as killed in action and the latter as a POW. Lt. Nash was seen destroying a Fokker DVII but was then set upon by four other Fokker DVIIs and was missing, later confirmed as having died of wounds (Nash made a report while in hospital before dying). The official history describes the low level attacks blowing transport off the roads, silencing machine gun posts, stampeding horses, scattering troops and disrupting trains.
Overall the RAF lost 97 aircraft on this day with the low level squadrons such as No 80 suffering an average 23 percent attrition rate as against 13 percent for all units. The German Air Force had fought desperately in defence of their ground forces which were falling back on the Somme bridges - a major target for the RAF.
On 9 August the fighting continued and Lt. Orr was killed in action over the Somme, brought down by ground fire. Lt. Coulson was wounded and the following day Lt. Barker was wounded - both being hit by ground fire. Lt. Russell was credited with destroying 5 machine gun positions on the ground on 10 August. The battle ended on 12 August.
Photo copyright © 2006 www.airwar1.org.uk
(1) Map: C S Hammond map, courtesy of the University of Texas Libraries, The University of Texas at Austin.